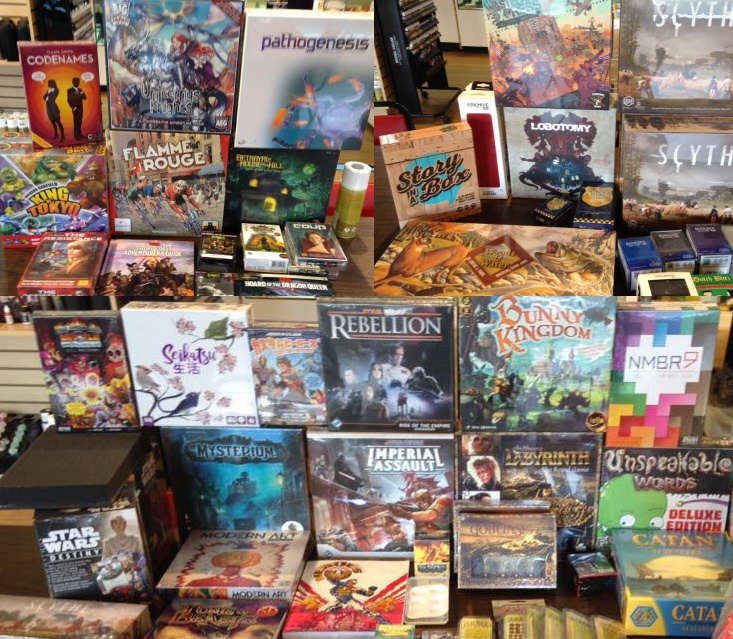 Photosynthesis – Players use the sun to plant seeds and grow trees, then cut them down for points. The game has no luck, just strategic planting.
Codenames Duet – This is a cooperative version of the original Codenames, where players will take turns giving clues to fully reveal the agents – but avoid the multiple assassins.
Torres – Players are strategically building castles on the board using action cards.
Lisboa – In this complex strategy game, players rebuild Lisboa by playing event cards to trigger actions that let them manage money, influence and goods and to engage in politics, trade and building.
Flamme Rouge – Players control two bicycal riders in this fast-paced, card drive, tactical racing game.
Wasteland Express – Players outfit their truck, get loaded for bear, hire some allies, get paid, and just keep on truckin' in this post-apocalyptic delivery game.
Bunny Kingdom – Players draft cards to provide resources, build cities to increase your influence, and plan strategy, leading their clan of rabbits to glory.
Seikatsu – Players build a shared garden, scoring for the birds and flowers they place.
Custom Heroes – A new twist on a trick game where the cards are being modified constantly.
NMBR 9 – Players try to place their numbers on the highest levels to earn the most victory points.
Wood & Water – Players are hunters catch animals by playing the correct weapon and ammunition card for the animal found in this space.
Jim Henson's Labyrinth: The Board Game – Goblins! – Expansion that adds Goblins to the game.
Ascension: Alliances – Expansion to add teams to the game.
Star Wars: Rebellion – Rise of the Empire – Expansion includes new leaders, missions and tactics.
Harry Potter: Hogwarts Battle – The Monster Box of Monsters Expansion – Expansion adds new rules and adventures for players that have finished all the original adventures.