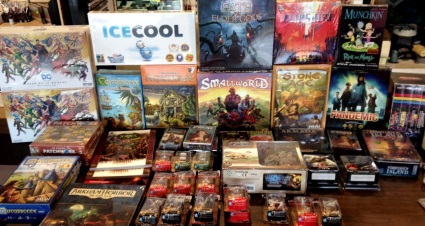 The Ruhr: A Story of Coal Trade – Money is always scarce in this game where players sell coal to buy new technologies to produce better coal so that they can build buildings. A very tight complex game.
Fate of the Elder Gods – Players are competing cultists trying to summon their one ancient evil to destroy mankind. Using cards and dice, you try to control areas and gain more powers
Flip Ships – A co-operative game to protect the planet from aliens by piloting (fliping cards) space ships.
Ice Cool – Players are young penguins trying to sneak out and get some fish. Each turn one player is Hall Monitor and tries to stop them. Moves are made by flicking the penguins down the hallways!
Lazer Ryderz – A Tron inspired game of making paths to capture the Prisms to go to the next level. Speed is required, but the faster you go, the harder to turn.
Five Tribes: Whims of the Sultan – Expansion that adds a fifth player and new mechanisms to "please the Sultan"
DC Deck-Building Game: Multiverse Box – A box to house your DC Deck Builder cards, with crossover cards to combine previous game versions.