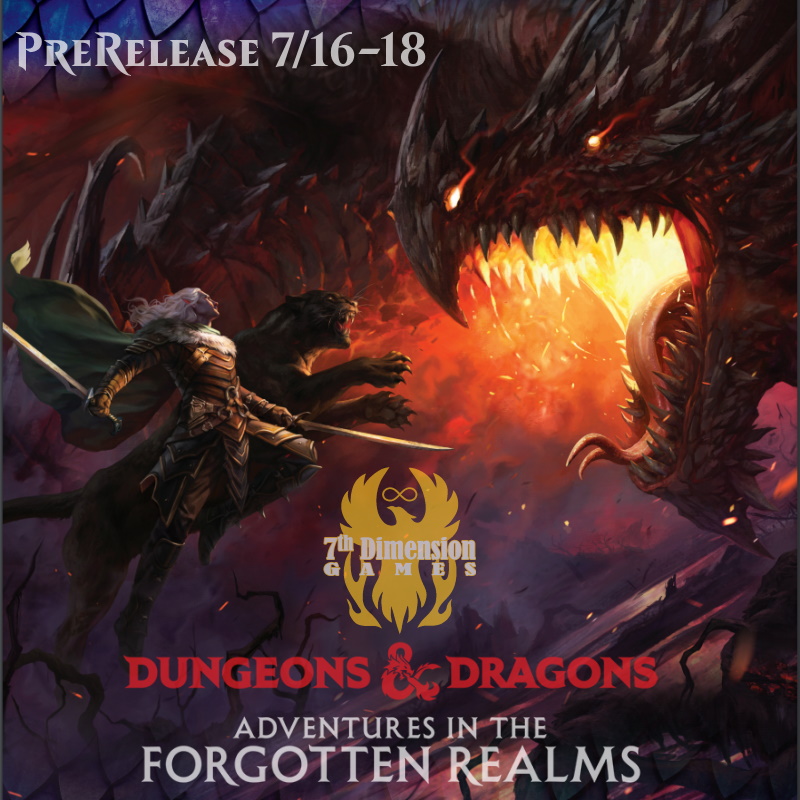 The newest Magic the Gathering set is set in the D&D World of the Forgotten Realms.
July 16th-18th we will be running seven different prerelease events for the newest set of Magic the Gathering, Adventures in the Forgotten Realms. Our old school D&D players are familiar with this realm from years of D&D lore.
Big things to remember:
We will only be seating people that have shown us proof of vaccination.
We are capping all events at 20 players, and expect to sell out.
For all of the events, you will get a box containing 6 packs of Adventures in the Forgotten Realms, 3 foil double-sided Dungeon cards, a rare card that is foil with the date stamped on it, and a spin down die. Players will then build 40 card decks and compete.
Wizards of the Coast has created a Magic Companion App that can be downloaded to your smart phone. If you could take the time to download the app and preregister with the event code, it would save both of us time.
Our first event is an experiment: Friday, the 16th, we will start an event at 3PM and run just two rounds. Anyone that plays both rounds will get 2 prize packs.
The other 6 events will be our usual 4 round events, 1 prize pack per round won.
Friday, the 16th, 7 PM
Saturday, the 17th, 9AM
Saturday, the 17th, 2PM
Saturday, the 17th, 7PM
Sunday, the 18th, 12PM
Sunday, the 18th, 6PM
Please reserve your seats now!
Last note, Set boxes are also now on sale.