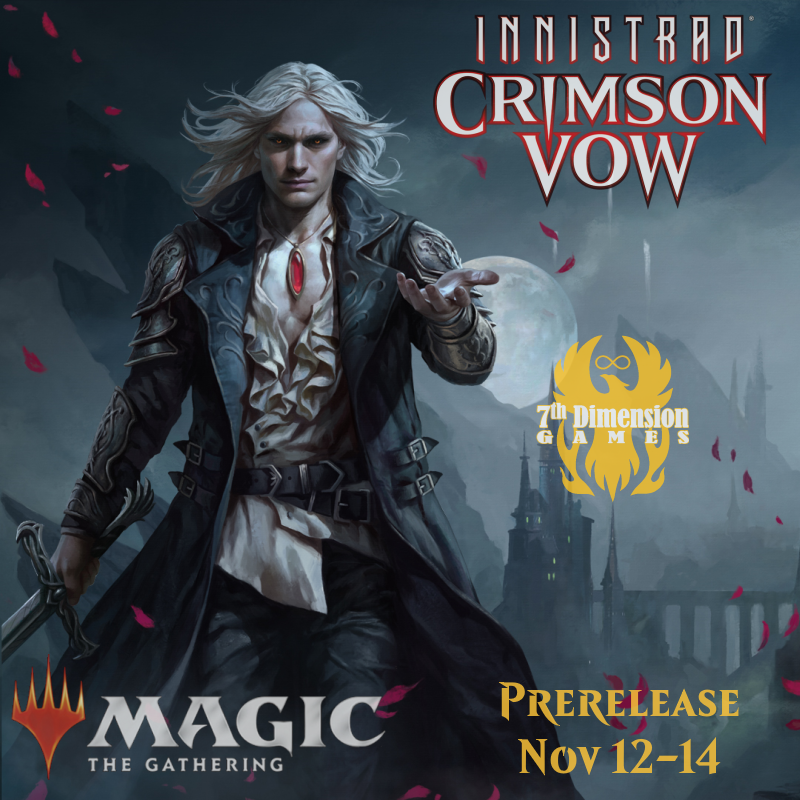 Big things to remember:
We will only be seating people that have shown us proof of vaccination.
We are capping all events at 20 players, and several of the events will sell out.
For all of the events, you will get a box containing:
6 Innistrad: Crimson Vow Draft Boosters
1 foil-stamped R/M card from Innistrad: Crimson Vow
1 deck box
1 Spindown life counter
Players will then build 40 card decks and compete.
Wizards of the Coast has created a Magic Companion App that can be downloaded to your smart phone. If you could take the time to download the app and preregister with the event code, it would save both of us time.
Our first event is our fast event: Friday, the 12th, we will start an event at 3PM and run just two rounds. Anyone that plays both rounds will get 2 prize packs.
The other 5 events will be our usual 4 round events, 1 prize pack (a draft Booster) per round won, people with positive records will get an extra pack.
Friday, the 12th, 7 PM
Saturday, the 13th, 9AM
Saturday, the 13th, 2PM
Sunday, the 14th, 12PM
Sunday, the 14th, 5PM
Please reserve your seats now!
Last note, presales for Draft boxes are also now on line. Set boxes have been delayed and won't be available during prerelease.