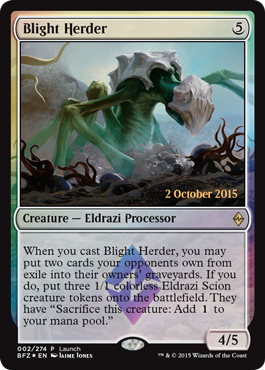 While we wait for release day, tonight we will have a $10 Theros Block Draft.
Friday, at 7:00 PM we will be running a $30 sealed event and our first Battle for Zendikar draft for $15. The release day promo Blight Herder will be handed out until we run out. THIS EVENT WILL BE CAPPED at 24 players for Draft and 16 for Sealed. Sign up sheets are out now if you wish to pre-pay and pre-register.
Saturday is our all day casual event, get a free pack for playing and one random person gets a Fat Pack, and one will win a From the Vault Angels!
October 24th & 25th are the Magic Game Days. We'll be running these Standard Constructed events as free events and giving away the playmats and promo cards.